Dental crown manufacturing process
Dental crown manufacturing evolves a complex process that takes a few steps, from taking measurements through modeling and milling the crown.
while some of these steps are somewhat fixed our dental milling tools allow up to a 20 times increase in tool life which translate to major reduction in cost and shorter time of production due to reduced handling.
we will cover the process and background to show the best practice and your potential benefits with Telcon PCD dental milling tools.

About Dental crowns
What is a dental crown?
A dental crown or bridge is a full or semi artificial tooth. It can be made from several dental restoration materials such as Porcelain, Lithium disilicate, Alumina, Zirconia and Metals. The most common material used for making crowns is Zirconia. It is generally manufactured in soft phase (green state) and later sintered to final hardness and shape. Another common material is PMMA (polymethyl methacrylate) which is a plastic material used for most of the temporary restorations. Dental restorations are being made at the technician lab or at the dentist clinic, requiring multiple process steps, either conventionally, with negative impression plaster mold or with intraoral digital scan and cad-cam machines.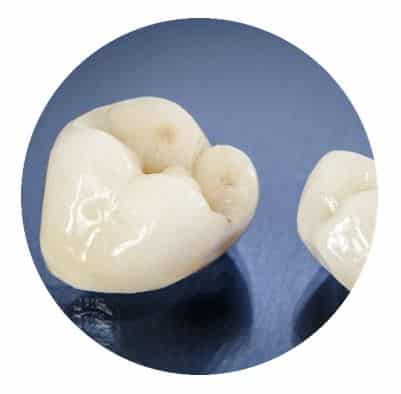 Why would we need a dental crown?
Dental crowns are needed to replace broken or missing teeth from functional and esthetical reasons.  For example, we may have a broken tooth, which requires to be repaired. That can be done with Inlays and Onlays. If a tooth is too damaged to be fixed by a simple filling, an inlay or onlay may be used to repair the tooth.

Tooth that got a root canal treatment or severely broken tooth would get a complete crown or bridge with the shape of the normal tooth. The dentist attaches the restoration with special cement for permanent gluing, after milling the broken tooth to a certain shape in order to hold the crown firmly in its place.
A completely missing tooth would require either a bridge construction or an implant + crown.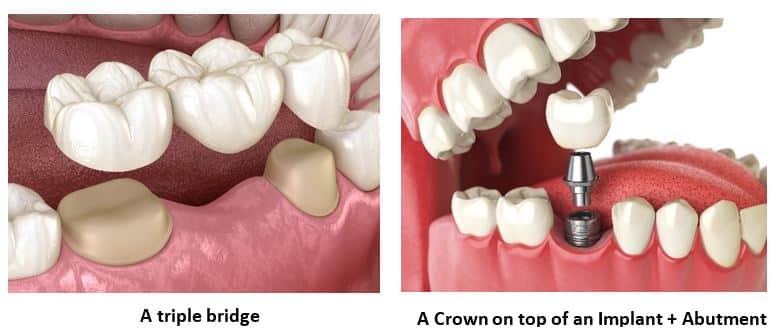 When a bridge is done, the two adjacent teeth are prepared to a stage-like shape and the middle crown is supported by the two external teeth. Alternatively, an implant and abutment can be placed, and the new crown is adjusted accordingly.
When broken or missing tooth occur in the anterior (front) teeth section, the restoration is mainly done from esthetical reason. Functional reasons are more likely when several or all teeth are missing.
How dental crown is made?
In case of crown or bridge covering broken teeth, the teeth must be reduced in size so that the crown or bridge will fit over it properly. In the next stage there are two options;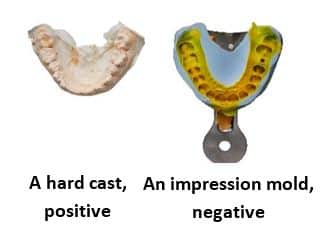 The conventional way is to use a tray with a silicon material impression, which the patient puts in mouth and bites. After a while the silicon material hardens and can be taken out, consisting the 3D shape of the relevant location. This impression is used later for creating another harder impression model cast of the positive shape to be used for measurements and scanning. The scanning information assist the technician to determine the shape of the new required tooth.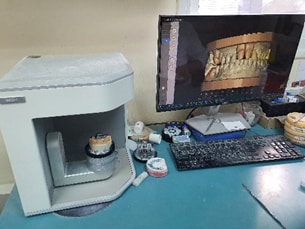 A Model Scanner
A more modern way is to use an intraoral digital scan of the prepared tooth in the mouth which makes the need to take impressions, redundant. The equipment required to perform these scans consists of a hand-held scanning tooth-brush-like stick that houses a miniature imaging system. This is connected to a hardware module that both powers the scanner and receives the digital generated image. This scanning file can be than used in a fabrication lab to eventually produce the crown.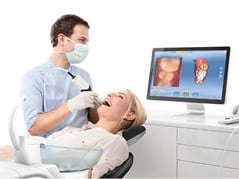 Intraoral digital scanning
The fabrication lab uses the STL file to create in CAD (computer aided design) software the necessary shape of a crown to be mounted on top of the broken tooth or the missing tooth. When the file is ready, the same software turns the CAD file into a CAM (computer aided manufacturing) file to be transmitted to a dedicated 5 axis CNC machine.
In the process of Dental crown manufacturing there are different types of machines, from various manufacturers, such as: Amann Girrbach, Dentsply Sirona, Zirkonzahn and others, each one dictating the shape of the raw material, the dimension of the milling tools and the machining strategy, e.g. cutting speed, feeds, stock removals etc.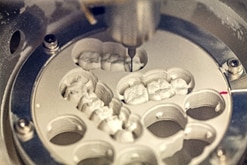 A zirconia disc during machining
The milling tools which are traditionally in use during dental crown manufacturing are made from tungsten carbide, capable of machining around 100 crowns (depending on size and shape).
Telcon Diamond Ltd is the first company to present PCD (polycrystalline Diamond) crown machining burs.
Since PCD is 5 times harder than Tungsten carbide, the PCD tools are much wear resistant, therefore life expectancy is 10-15 times more than the Tungsten carbide. In fact, 1500 machined crowns can be achieved on regular basis.
Another advantage is consistent high crown quality over time. While Tungsten carbide tools wear faster and lose their size (diameter) faster, deterioration of crown surface finish and dimensions is a fact. Inconsistent quality such as, mismatch, "wavy" surface and broken thin wall can be seen. The first and the last crowns are not within the same quality. With Telcon's PCD tools, crown surface quality and dimensions are kept the same for much longer hours.
Telcon's PCD crown milling burs are designed to be used in three machine platforms – Sirona Inlab MC X5, Zirkonzahn CAD/CAM M systems and Amann Girrbach ceramill mikro 5X.

Just replace your Tungsten carbide burs with Telcon's PCD burs and press cycle start! https://telconpcd.com/product_cat/dental_tools
After zirconia crowns are manufactured, they should get their final working hardness within a sintering furnace. This process may take between 2 – 8 hours, depending on the hardness levels the lab would like to achieve.
No machining whatsoever is done on the crowns in hard state and the crown is practically ready. If specific coloring is required, then it should be applied prior to sintering.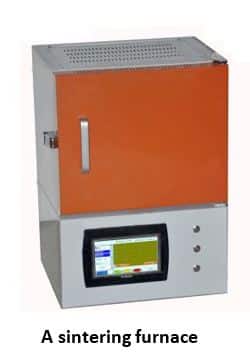 Telcon Diamond Ltd is the only company who suggest a revolutionary process of machining the zirconia also in the hard state, that is, skipping the sintering process, saving time and material (due to 20% shrinkage in sintering). This machining process is under research and is likely to become productive in the near future.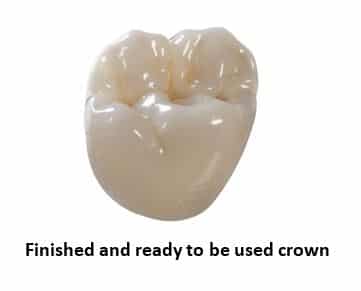 Want to test our dental milling tools? click blow to order the tools now: